Today has been a very busy day!
Of course, we started out at Starbucks. We had a nice visit with Irwin. and Sandi.
"We are best buddies....Sandi and I both have cold noses, so they call us ....snow nose!" says Vicki! lol
Irwin got a new car. It is really pretty...."it is just a new car, I get one every 2 years, no big deal!" lol!
Damian works at Starbucks and today is his first day back after a 2 week vacation....he is so much fun and so funny...I told him that Vicki and I were lost....he said "you are 2 lost sheep in a world of wool!" He made it up and I thought it was well worth printing....Thank you Damian for your sense of humor!
Of course we had to go to QT for our drinks and yes my boyfriend was very happy to see me! Poor guy having to put up with all the old ladies chasing him around the store! lol!
Next t stop....get the car washed....'What is wrong, he said...is their a problem and that's why you taking pictures?" No I said....you just are cute! lol!
This is a good deal....this car was soooo dirty!
"I didn't even get a chance to smile....but your car is looking good!"
Now we are at Walmart and we did not buy more than we need....no brownies, twinkles or ho ho's!
You see who gets to pay...that is what happens when you don't leave your purse in the car. lol!
Okay, I baked the muffins ....Vicki went to see her mother! We both did good!
Now it is time for dinner and ....oh no.....they are here cleaning the gutters!
I am retiring to my cabin and calling for room service! I am tired!
Where we did not go today .....but the Amsterdam did!
Auckland New Zealand
We had a fairly nice day at sea but had to contend with some very high winds. We arrived into Auckland around 6:00 this evening and were able to get off as soon as we were cleared. Most things were closed but the Sky Tower was open so up we went…. Nice view of the city. It was really nice to get here a day early. Tomorrow I will play it by ear or otherwise just "wing it". No special plans, I'll just go wherever my feet take me……
Photos are also from Jeff's blog!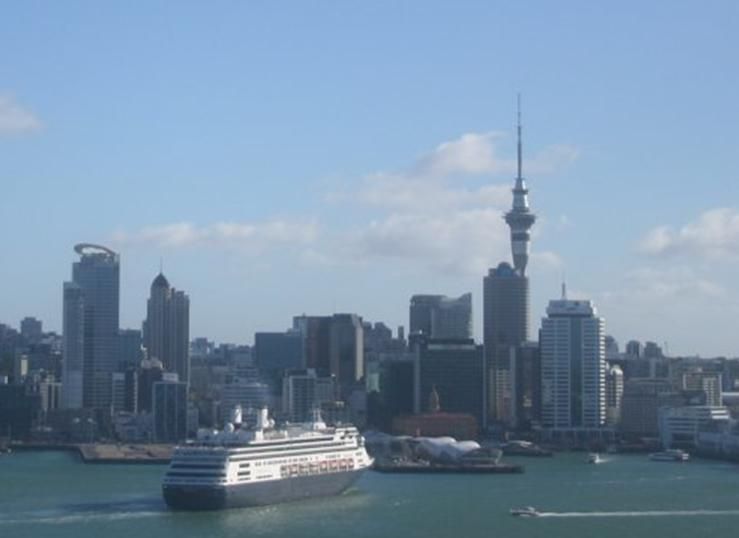 The following blog is from.....Postcards from Paradise!
The natives were getting restless this sixth day of being at sea. With no port stops, the anticipation of arriving to Auckland earlier than expected was high, even though we got there late in the day.

It sure looked like it was going to be a warm day this morning, but after breakfast we found out differently. The skies were turning cloudy and grey rapidly, and the winds were increasing. By noon, we had gale force, or an 8 on the Beaufort scale. That is close to hurricane winds, or at least it felt like it. Believe it or not, we attempted to sit in what sun there was at the aft pool. When the sun did come out, it was really warm. However, in the clouds, we had to wrap up like mummies with four pool towels. The real trick was keeping these towels in place and not losing them over the back railing. By 2pm, we gave up and went inside to warm up with hot chocolate and coffee.

Around 1pm, the Amsterdam was sailing by small islands off the north coast of New Zealand. Soon we also spotted some larger seabirds, and realized they were gannets. These graceful birds are commonly seen in these waters and have some of the largest nesting colonies in the world in the Auckland and surrounding area. While we were filming these islands and birds, we began seeing some large splashes in the water near the ship. Turns out they were dolphins playing in the ship's waves. Don't know why, but they dive under the vessel and swim right under the bow without colliding with the ship. It's really a treat to see them. Seldom do we have our camera when we see them. But today we did, and we got some good shots for a change. You have to be quick because they literally hit and run.

The Captain slowed near the harbor entrance to pick up the pilot around 5:30pm. A good place to watch the sail into this harbor was on the bow. We were alone because there were gale force winds out there. The closer we got to the harbor, the winds slowed down, thank goodness. Now more people were coming out there, including several of the crew members. It turned out that we were docking at a pier that was not across from the Hilton Hotel. Remember, we were not supposed to be here this early, so our docking space got changed we think. If we heard correctly, two more ships will be in port tomorrow with thousands of passengers. Also tomorrow, we will embark new guests. Among them will be Diane and John, both of whom we spotted watching our sail in from the pier. Unfortunately, they cannot come onboard until tomorrow. Would have been nice if they could have joined us for Barbie's birthday tonight.

By the time the ropes were secured and the customs and immigration folks came onboard, the ship was cleared for those who wished to go ashore. Lots of guests were thrilled to go out into the city this evening. Not us. There were so many good choices for entrees tonight, it was a hard decision to make. The 22 ounce porterhouse steaks sounded great to us. In fact, we refrained from eating lunch so we could enjoy those steaks.

Since we had a special birthday to celebrate tonight, we had guests.....Ellen, Aart, and Judy. Showered with cards and a gift of a belly dancing DVD, Barb was a happy camper. And so were we when two cakes arrived............one chocolate and the other a whipped cream covered, vanilla custard filled white cake. Now all Barb has to do is practice with the video so she can entertain all of us on the next formal night! With Barbie? You never know......................

Mary Ann & Bill
New Zealand's flag